Posted on: May 25, 2018 | by: Will Housh
Nutrition and our next meal are things many of us are fortunate enough not to have to worry about. For many orphan children across the globe, this is not the case.
Food insecurity refers to a state of not having reliable access to an adequate amount of nutritious and affordable food. Food insecurity and malnutrition is a serious issue these children face.
A 2007 study examined the relationship between orphan status and food security as well as nutritional status in vulnerable, impoverished areas of Nairobi, Kenya. Researchers found that children who are orphaned are more vulnerable to experience food insecurity than those who are not.
Orphaned children at the greatest risk of food insecurity include:
Paternal orphans, those who have lost their father
Orphaned boys
Orphaned children living in households of the lowest socioeconomic status
Orphaned children in households with numerous dependents
Orphaned children in female-headed households
Orphaned children in households led by adults with low education levels
For the study, caregivers of orphaned children were interviewed to capture data. According to the research, caregivers reported that they felt only 35.2 percent of orphans had received a sufficient amount of food over the past six months.
Food Security and Malnutrition
Malnutrition is a global public health concern, impacted by food security and nutritional status. Without reliable access to nourishing food, children's nutrition is directly affected, leading to malnutrition. Children who are malnourished are at risk for illness, diminished cognitive development, reduced productivity, and death. With these hinderances untreated, orphaned children stand less of a chance to grow up into productive members of society.
PHILANTHRO Fights Against Food Insecurity
PHILANTHRO brand furnace filters takes a stand against food insecurity issues amongst orphaned and vulnerable children across the globe. Ten percent of all filter sales are donated to Back2Back Ministries, a charitable organization that provides the much-needed care orphaned children need to combat food insecurity and nutritional deficiencies, as well as health and personal care so they may grow and flourish.
Back2Back Ministries works directly with orphans and vulnerable children who face the fear of not knowing where their next meal will come from each day. The care these children receive include healthcare, housing, and the personal attention needed to thrive.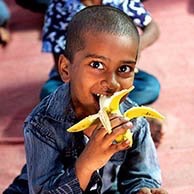 Read about David's experience with food insecurity and how his life has changed thanks to Back2Back Ministries and PHILANTHRO funding:
David sat wide-eyed in the doctor's office taking in all sorts of machines he had never seen. This was his first visit, but it will not be his last. David now has regular medical and dental care. He falls into a cozy bed at night, and lays his head on a pillow with his name lovingly embroidered on it – he has a place to call home. For a child who has dealt with food insecurities for most of his short life, he now has reliable nutritious meals with fresh fruits and vegetables, and he has clean water to drink. Beyond that, he has caregivers who are with him, caring for him and meeting his daily needs.
Switch to PHILANTHRO and Make a Difference
Simply switching your furnace filter can and will make a difference in the lives of orphan and vulnerable children throughout the world. Gain improved indoor air quality and better HVAC system performance for your home while contributing to the care these kids need to grow up healthy and happy.
Find the right PHILANTHRO brand furnace filter for your system and start making a difference today by visiting www.PHILANTHRO.com.
---
---