Posted on: May 10, 2018 | by: Will Housh
It's no secret that healthcare is expensive. Fortunately, many of us have health insurance coverage and access to excellent physicians who provide quality treatment for simple ailments to chronic illnesses.
Unfortunately, that's not the case for many orphan and vulnerable children across the world. Every day, children are going without the critical healthcare they need to overcome illness. Without that access, their lives may be affected negatively in many ways, today and ongoing.
PHILANTHRO brand is working to change that. Sales of PHILANTHRO furnace filters fund healthcare for orphans globally, making a significant difference in the quality of life for these children.
Why Is Orphan Healthcare Necessary?
A 2012 study conducted by the POFO Research team found that 55 percent of orphans worldwide reported an illness within the previous six months. Twenty-three percent of these children reported fair to poor health on a consistent basis.
These are children who have no regular access to healthcare. Without this care, their health conditions are unable to improve, affecting their lives in many ways – enjoyment, education, confidence, and more.
Back2Back Ministries is a non-profit organization that provides healthcare to orphans and vulnerable children worldwide, in addition to other essential care and services. Without their services, accessing quality healthcare is often limited for orphans and vulnerable children across the globe, not to mention unaffordable.
Orphan Healthcare Spotlight: Meet Hasini
Hasini lives at Back2Back Ministries' India Campus and recently received an eye exam that changed her life. Not only did she regain full vision as a result, she also gained a growing sense of self confidence as her eyes are open to the world and her needs are being met.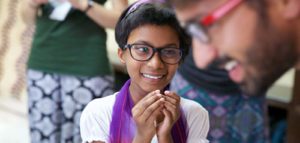 Hasini's small frame took up very little space in the doctor's office chair. She stretched herself as straight as she could go, attempting to still her chin to complete the eye exam. She took a deep breath, but couldn't sit perfectly still. Hasini sat back in the chair and looked up at Charlie James, Back2Back staff member. "Charlie-anna (brother,) I think I need to do a magic mustache," she said softly.
Hasini, along with two other children from the Back2Back India Campus, recently visited a well-known eye doctor in Hyderabad. "The children had visited a different eye doctor before, but we were curious if there had been a misdiagnosis," explained Dan Belue, Back2Back staff. "When we had the opportunity to take the children to the eye doctor in the city, we didn't hesitate."
Hasini's eye exam left the young girl feeling nervous, unable to reach the machine easily or sit still, but she used helpful tools given to her by staff during nurture groups to handle her emotions. "Magic Mustache" is a calming technique that requires the children to place their fingers across the upper lip onto pressure points, helping them to focus better.
Once Hasini was able to calm down, her eye exam was completed. "The doctor found she has an irregular shaped retina in one eye. It's likely she's had it since birth and can only see strong light," explained Dan. "The glasses she was previously wearing weren't helping her see any better, so she got an updated pair, and she is learning how to manage with full sight out of one eye."
Shyam and Sudha, the two other children who visited the eye doctor with Hasini, received updated prescriptions, and Sudha is awaiting an MRI to address right to left movement in one eye.
Your faithful sponsorship makes doctor's visits like this possible. We celebrate the ways Hasini, Sudha, and Shyam are receiving the best treatment for their eyes, but we also celebrate the physical, emotional, and social growth each child shows, too.
Hasini knew just what to do in a moment of frustration, she knew what she was able to handle herself and when she needed to call on calming techniques she's learned from trusted adults. "Hasini returned from the eye doctor and told me about her experience," shared Dan. "It has been a privilege to watch her grow since she first arrived to campus over a year ago. She was so tiny and hesitant to connect with the children and caregivers on campus, but she is truly blossoming."
Hasini is growing physically and socially as she continues to connect with friends and caregivers. Her new eyeglasses give her increased confidence and remind her, daily, her needs are known, and they will be cared for.
PHILANTHRO Brand Funding Healthcare for Orphans
PHILANTHRO furnace filters were created specifically to generate funds for orphans and vulnerable children in need, with 10 percent of each filter sale donated directly to Back2Back ministries to support the critical needs of kids around the world. Your filter purchase makes a direct difference in the lives of children in need. Changing the air filters in your home regularly and switching to PHILANTHRO brand furnace filters will give healthcare to orphans who would otherwise have none.
Make a difference in the lives of others with one simple step – make the switch to PHILANTHRO furnace filters today. Find your size and order filters on your schedule by visiting www.PHILANTHRO.com today.
---
---