Posted on: July 20, 2018 | by: Will Housh
Ananthi comes from a very poor family. Her family had fallen deeply into debt, as often happens with Indian families struggling to survive.  Because of their financial troubles, Ananthi's family fell apart as her parents separated and went their separate ways.
Her aged grandparents who have no source of income took her in.  Ananthi was suffering from an ulcer since she did not have enough to eat.  With all these challenges in her life, she failed in her high school and attempted suicide. Thankfully, her grandparents with the help of a pastor brought her to our Jaya Nursing School.
The Jaya Nursing School
The Jaya Nursing School was birthed through the vision of a physician who serves on the Fishhook International Board.  He had made a couple of trips to India to do village medical clinics and to train doctors when he began to see some fundamental problems with the way many rural villagers receive (or don't receive) healthcare.
When the only opportunity to see a doctor and obtain medications came with a sporadic medical clinic set up for a day in their village, people were without meds for chronic conditions like hypertension and diabetes for long periods of time.  In his opinion, going on and off these meds was extremely detrimental to their health.  In addition, it was obvious to him that many illnesses pervasive in the villages could be prevented with proper training in hygiene and sanitation practices.
As he thought about these issues, God gave him a vision for a school that could train nurses to provide needed medical care and training in hygiene under the supervision of a doctor.  In addition, these nurses could be prepared to share the Gospel with those who wanted to hear.
Life-Changing Education for  Orphaned and Vulnerable Students
Opening in 2010, the Jaya Nursing School's enrollment is aimed at students who would otherwise be denied an education due to poverty or societal barriers.  Some of the students come from within the orphanage located on the same campus while others, like Ananthi, come from places near and far to pursue an education in healthcare that they could never dream of obtaining otherwise.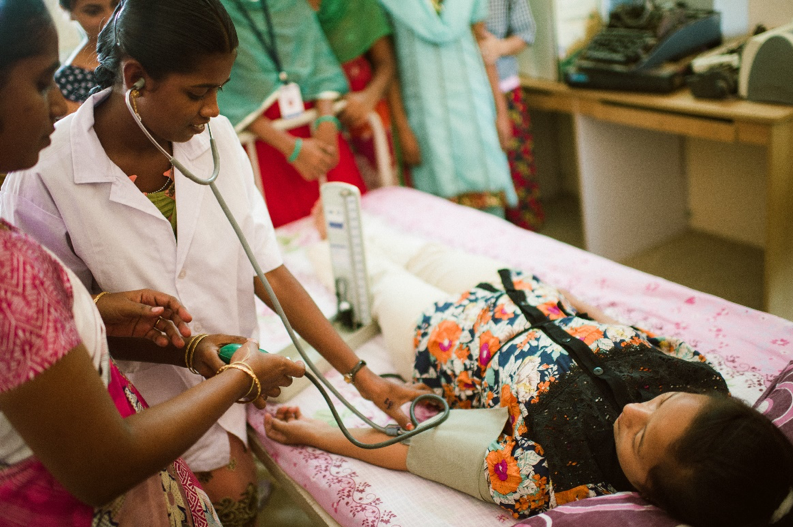 It is amazing to see the transformation that happens to these students during this 2-year program.  Whether they come from our orphanage or from other places, they have lived through traumatic times at various points in their lives.  Typically, they enter the nursing school as timid, downtrodden teenagers who have seen the effects of poverty, alcoholism, neglect and abuse in their families.
When they graduate with the government certificate they have earned, they emerge as confident young professionals with an understanding of the generosity of God's grace.  They are eager to use their new skills to serve the poor and to share God's love with them.
This spring, Ananthi graduated with her life renewed. God healed her ulcer and gave her the opportunity to become a nurse. Ananthi passed all her exams and is working in a hospital in Tirunelveli, a town about 50 miles south of the nursing school.  Her life is a testimony to our God, who works through His people to care for the orphans and prosper them.
Want to learn more about the great work being done by Fishhook International and the Jaya Nursing School? Visit their website here: Fishhook International
---
---